---
Welcome to the Academy for Little People! Family owned and operated since 1978, the Academy for Little People has been a part of the West Palm Beach community for many generations. We are a Gold Seal and APPLE Accredited Pre-school and we take pride in the safe, educational, and fun environment we create here. At Academy for Little People, we guide children to learn as they play. Our curriculum is specially designed with a fun, hands on learning approach in mind. Your children are our number one priority and they become part of the Academy for Little People family.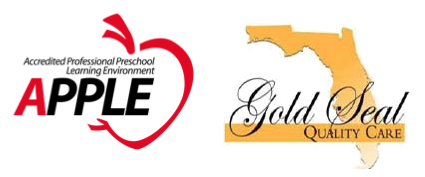 Monday – Friday:  7:00am- 6:00pm
4639 N Military Trl
West Palm Beach, FL 33409
(561) 684-7772
info@academyflp.com
Feature Box Title
Feature Box Title
Feature Box Title
Feature Box Title
Our Philosophy
Children are unique and special gifts, who learn though exploring and interacting with others. Our philosophy is to focus on each child and respect that they are all individuals with different needs and talents as a whole. We believe that they develop in their own way, and in their own time, in the following areas: Social, Emotional, Physical and Cognitive. This is reflected in the environment with character development martials, sensorial activities such as water and sand play, interactive story times, hands on math activities using real objects not just abstract numbers, phonics, letter games, toys, physical development activities, materials such as music and movement, parachute play, and bean bag rock and roll. The environment is attractive and fun for the children and engages them in play that promotes learning.
Learn More!
4639 N Military Trl
West Palm Beach, FL 33409
(561) 684-7772
info@academyflp.com