Welcome to Academy for Little People of West Palm Beach!
We understand that choosing the right center for your child can be a very scary decision. We hope to ease your mind by answering all the questions that are important to you. At Academy for Little People of West Palm Beach, we guide children to learn as they play. Our curriculum is specially designed with a fun, hands on learning approach in mind. Actual lesson plans are much more detailed so as to fill the entire day with fun and interesting activities.
The Academy for Little People is proud to be a Gold Seal and Apple Accredited School. Our Teachers are certified and have CPR and First Aid training. We strive to have a low student to teacher ratio so we can give each child the attention they deserve.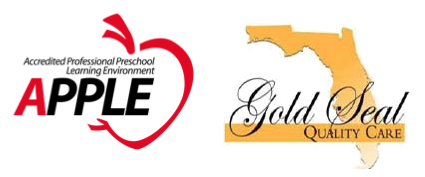 Established in 1978, our philosophy is to focus on each child and respect that they are all individuals with different needs and talents. We believe that they develop in their own way and in their own time in the following areas: Social, Emotional, Physical, and Cognitive.

Admission, Procedure, and Hours
Academy for Little People of West Palm Beach, FL, Inc. accepts children ages 12 months to 5 years of age for enrollment in the Preschool and VPK programs and 6 years to 11 years of age in the After-school and Camp programs. We are open Monday-Friday from 6:45am-6:30pm. It is very important to the learning development of your child that they get enough rest at home, are nourished and be here on time. A fee is assessed for a late pick-up of your child.
Spanish is taught in each class
Group Dance Classes Included
Seasonal Camps Available for ages 6-11years
Open Door Policy- We encourage you to visit the center at any time. We have an open-door policy but we do ask that you take into consideration that there are certain times in the day (such as a nap) that visiting can be detrimental to the children's daily routine as well as the other children in the class.
Contact us!